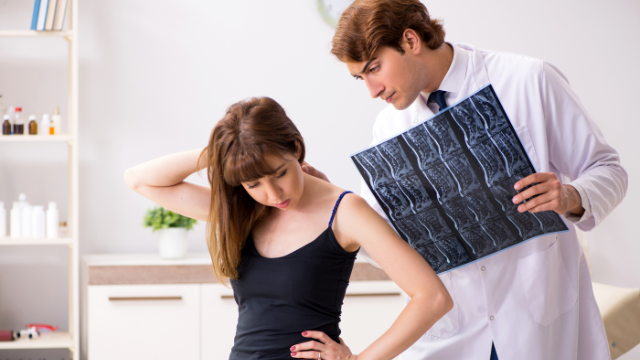 As we discussed in our second newsletter this month, diagnostic tests like X–rays should only be performed when a red flag is detected, meaning that the healthcare professional notices signs of a potentially serious underlying condition during the initial evaluation. Despite this, many X–rays continue to be performed on patients with conditions like back pain even when no red flags are identified.
Large groups of chiropractors, for example, including the International Chiropractic Association, promote the use of routine or repeat X–rays to assess the structure and function of the spine. This practice has been used for over 100 years, and it's unclear if doing so is associated with any benefits for patients with back pain. With this in mind, a study was conducted to evaluate whether chiropractors' routine or repeat use of spinal X–rays without red flags have any noticeable impact on patients' outcomes.
This particular study was a systematic review, in which researchers performed a thorough search for any studies with data on patients who visited a chiropractor and were referred to undergo an X–ray of any region of their spine in the absence of red flags. They were specifically interested in patient outcomes that were associated with chiropractic approaches that used these X–rays for diagnosing or assessing the patients' condition. Once identified, they analyzed the results of these studies to determine if there was a clinical utility of X–rays for patients with back pain. Clinical utility was defined as "the degree to which the use of a test is associated with changing health outcomes through diagnosis or selecting an appropriate treatment."
No evidence found in 23 studies to support the use of X–rays
The search process originally identified 959 articles, and researchers screened 176 of these to land on a total of 23 studies that met the necessary criteria and were included in the review.
Researchers were unable to identify any studies that investigated the clinical utility of spinal X–rays in the absence of red flags for evaluating the spine. Similarly, no studies were identified that investigated whether findings from repeat spinal X–rays are valid markers of significant changes when monitoring patients with back pain. These findings suggest that X–rays of the spine without red flags do not appear to be beneficial for patients. The study also points out that X–rays expose patients to some radiation, and although the amount used in a single X–ray is generally considered to be safe, no dose of radiation exists that is not without risk. This risk also increases proportionally with the dose, meaning that X–rays could pose dangers for patients when used repeatedly over time. Taken together, given the lack of benefit to patients and associated radiation risks, this study provides additional evidence as to why X–rays should not be recommended for patients with back pain in the absence of red flags. Doing so exposes patients to harmful radiation and does not appear to have any noticeable impact on their clinical outcomes.
Therefore, patients with back pain are encouraged to not request X–rays and other diagnostic imaging tests from their doctors. They should also be sure to discuss the risks, benefits, and costs of any test being ordered to diagnose or assess their condition before proceeding.
Additionally, patients should strongly consider seeing a physical therapist first rather than their primary care doctor or a surgeon. Physical therapists avoid the overuse of diagnostic tests and only order them when it is deemed absolutely necessary in light of the associated risks and costs. Instead of spending time in search of a diagnosis, they will get patients started on a treatment program from the get-go that will address their limitations and teach them to use their own movements to overcome their pain and disability. So if you are currently dealing with back pain or any other musculoskeletal condition, we urge you to contact our clinic to schedule an initial visit and get started on your path to recovery.